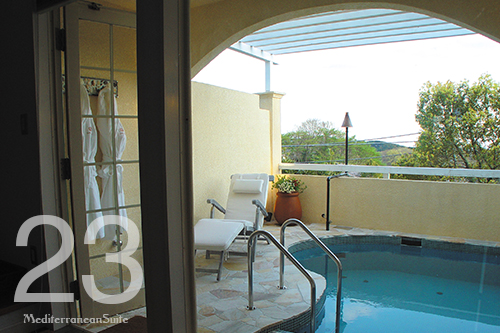 White plaster walls and an antique, wooden floor are brought together by the deep blue of the fabric and other interior decorations. Mediterranean resort air fills the room while a private pool awaits you outside. Please be sure to bring your bathing suit. Float weightlessly as you feel the tension released from your body. This feeling will stay with you the whole year round.
Guest Room
Room type :
Suite (maisonette) Double
Room area :
41㎡
Terrace area :
21.96㎡
Open-air bath size :
0.7m x 1.8m
Pool size :
2.6m x 3.2m x 1.2m deep
(shaped like a bean)
Capacity :
2-3 persons (extra beds allowed

*1

)
Installed beds :
W196cm × D195cm ,
1 wide king (separable

*2

)
*1 In case of 3 persons, 1 extra bed will be added to the 2nd floor of the bedroom.
*2 Please request in advance.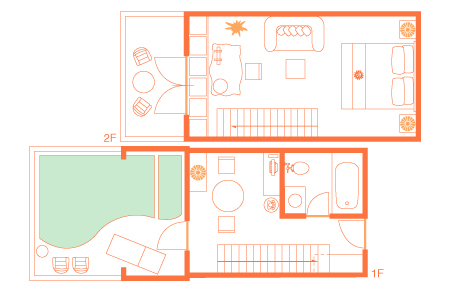 Room meals available (for up to 2 adults, no children. Charge applies)
Private pool, heated in winter
Outdoor hot spring bath (with roof)
Humidified air cleaner (with plasma cluster function)
Toilet with washing function
Public spa (private hot spring) free of charge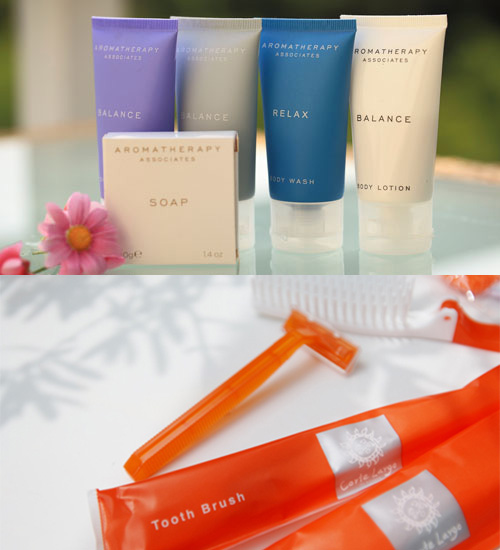 Amenities
All rooms / bath / Toilet with washing function · Humidified air cleaner (with plasma cluster function) · Terrace · TV · CD / DVD · TEL · Wi-Fi · Air conditioner · Refrigerator · Electromagnetic kettle · Hair dryer · Original Room wear · body soap · shampoo · conditioner · bath towel · face towel · toothbrush set · razor · hairbrush· Bath robe
natural hot spring it enjoys with cortelargo in all the rooms.
"Aromatherapy Associates" which is said to be the highest-ranking brand representing the UK as a bath amenity. Raw materials are only plant fragrance plants that do not use chemical herbicides or agricultural chemicals at all, are grown in collaboration with growers in selected areas, and valuable Eschengal Oil obtained by thoroughly distilling or compressing Each blend expert is carefully blended and made one by one. It is produced based on these manufacturing methods and concepts and is adopted at selected luxury hotels and spas all over the world. With the ultimate relaxation effect brought about by aroma, we will provide you with a time when you are an important guest.